I bought this trunk a while ago for $30 on Craigslist. I LOVED IT.
I guess you are like me, love many things?
The wood was "peeled" on the sides; that's why it was cheap.
I was already brave enough to think "I will FIX IT" without EVER having done anything like that, LOL!!!
It was EASY. Bought wood filler, it is like that white paste you buy to fill holes on your wall, but made for wood. Applied it with a spatula, let it dry, sanded with a fine block. Repeat. Wipe. Voila!
I always have to wait a little to decide what to do with my furniture. In this case, I was afraid to paint because it was so shiny… I thought my Annie Sloan Chalk Paint might bleed. But I don't know how to paint with any other paint, lol!
And I could not leave it because the wood filler was obvious on the side. I wish I had taken a picture of that! Sorry.
I was going to paint Duck Egg Blue or Provence on top, and write some words like a bench I saw but… It looks so pretty like that!!!
It looks "clean" in my bedroom (almost everything here is white)…
The pictures above were taken after two coats of ASCP Pure White and distressed. Note the sunshine…
Finally I had time to wax it, at night… I still need to buff it but here is how it looks now!
I have to say this is my best piece yet!!! I am getting better!!!
I love the details…
I hope you "take the plunge" and paint something in your house, too!!!
Have a great weekend!!!
Today I am partying at: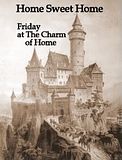 Posted by 
Claudine from ReStory.ca 
at 
08:26

 27 comments: